Data Loss Prevention (DLP)
Advanced Data Loss Prevention (DLP) solution that puts an end to data leaks and data theft while offering control of portable storage devices and ensuring compliance with data protection regulations.
It is designed to protect confidential data against insider threats while maintaining productivity and making work more convenient, secure, and enjoyable.
Endpoint Protector is an enterprise-grade DLP software for Windows, macOS and Linux computers, Thin Clients and Desktop-as-a-Service (DaaS) solutions. The solution is an ideal choice for companies running on multi-OS networks and it has a modular format that allows them to mix and match the right tools to serve specific needs.
By deploying it, organizations can safeguard personal information and meet compliance requirements for regulations such as the GDPR, HIPAA, CCPA, PCI DSS, etc. Endpoint Protector also offers protection to the company's intellectual property and trade secrets.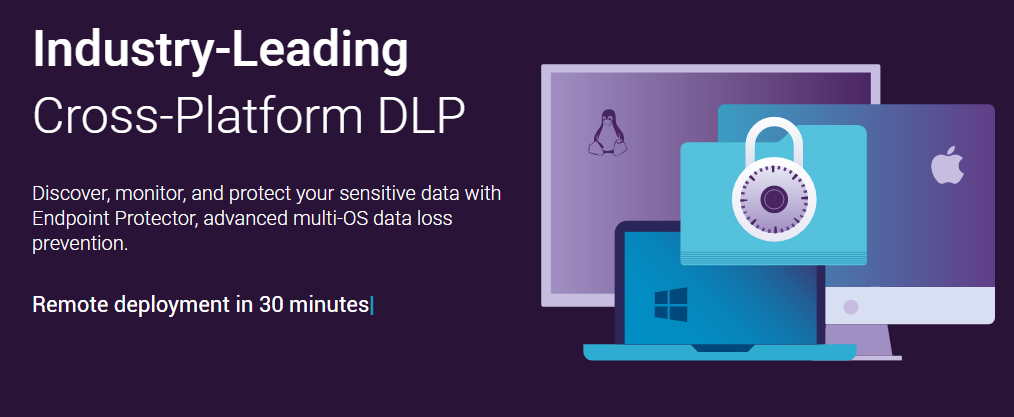 Key Benefits
● Easy to install and manage: Endpoint Protector can be up and running in 30 minutes. It is easy to run by both technical and non-technical personnel.
● Predefined compliance profiles: With the predefined data protection policies, it is easy to find regulated data and to ensure compliance requirements of the GDPR, CCPA, HIPAA, PCI DSS and more.
● Cross-platform protection: The solution offers the same security features and level of protection for a computer running on Windows, macOS or Linux operating system.
● Detailed reports of user activity: With Endpoint Protector it is possible to track, report and get valuable insights about what sensitive data is being transferred where and by whom.
● Flexible deployment options: Endpoint Protector can be deployed in multiple ways, depending on the needs and existing infrastructure of the company.
● Granular policies: Granular access rights for removable devices and peripheral ports, as well as security policies for users, computers, and groups, can be easily defined.