NetSupport
NetSupport Ltd - Innovative software solutions for schools and enterprises

NetSupport School – Complete classroom management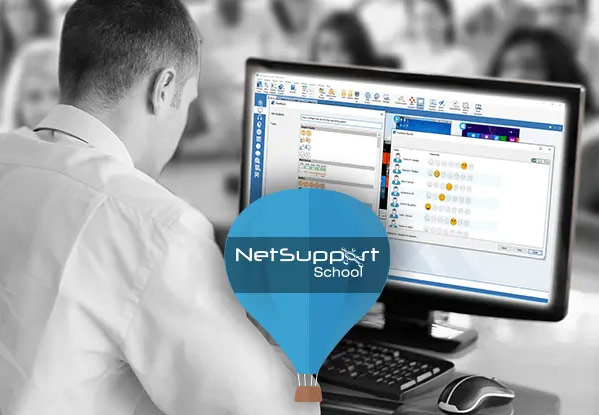 Schools now have a greater investment in technology than ever before and the challenges of managing and monitoring its use, supporting teachers and protecting students continue to grow.
Helping schools worldwide, award-winning classroom management solution, NetSupport School provides teachers with dedicated assessment, monitoring, collaboration and control features to leverage the full value of technology-led teaching and learning using best practice.
The solution not only saves teachers' time and maintains students' focus, but also improves learning outcomes – regardless of the preferred learning style.
Key features include:

NetSupport DNA – School IT asset management with safeguarding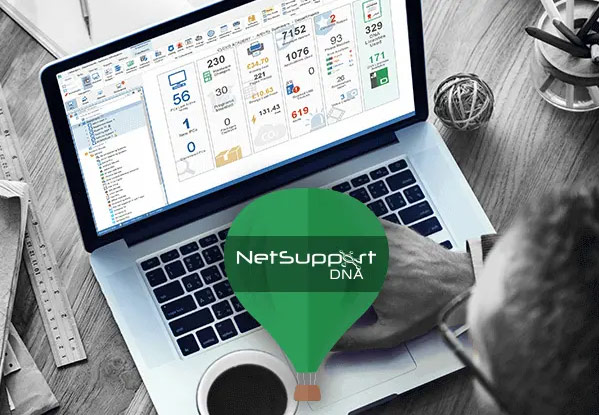 As the use of technology increases in schools, NetSupport DNA provides the complete solution to help monitor and manage its use, support staff in achieving best practice and protect students, both in the classroom and across the school.
This award-winning solution gives technicians IT asset management features to effectively track, monitor and manage IT assets across a school and its sites from one single point, helping them to save time, identify cost savings and increase security – plus improve staff and student productivity.
A built-in safeguarding module is included – as standard – to help schools improve their eSafety and safeguarding functions; its range of proactive and reactive features being specifically designed to protect students without impacting learning outcomes.
Meanwhile, teachers can access the classroom management toolkit (NetSupport School – also available separately) to gain dedicated assessment, collaboration and control features, to leverage the full value of technology-led teaching and learning.
Watch our short videos to discover the latest features :

NetSupport DNA – IT asset management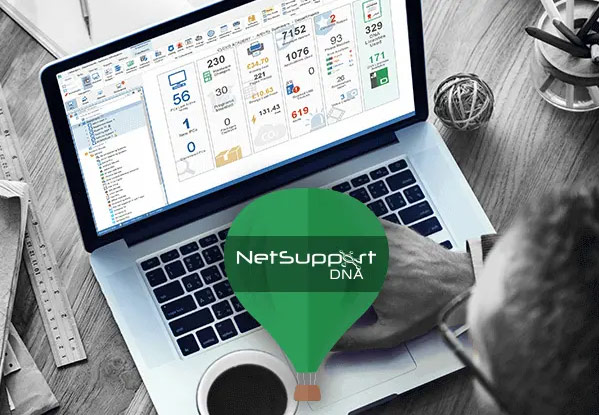 As the use of technology increases in enterprises, NetSupport DNA provides the complete solution to help support the management and maintenance of IT assets, whilst supporting its users – all from a central point.
Designed for ease of use, this award-winning solution gives technicians IT asset management features to effectively track, monitor and manage IT assets across the enterprise and its sites. Scalable to business needs – from a single SME through to larger multi-site implementations – it helps provide a clear and up-to-date overview of all asset activity.
Implemented in minutes, NetSupport DNA will save time and money while enhancing your enterprise's security, ensuring compliance and increasing productivity.
See the benefits for yourself with our free 30 day trial.
Key features include:

NetSupport Manager – Remote control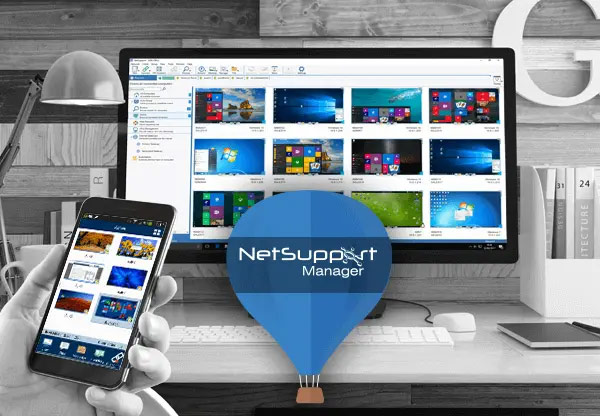 For over 30 years, NetSupport Manager has consistently led the way with innovative features to aid in remote PC management. As the complexity and diversity of systems evolves, remote control tools have also had to adapt to ensure that a single technology solution can manage and negotiate a wide range of platforms and environments.
Designed to operate over your LAN, WAN or the internet, securely and without the need for firewall configuration, NetSupport Manager provides a single, high speed solution for the remote management of multi-platform computers – without the need for a third-party service or ongoing subscription costs.
What makes NetSupport Manager unique is its range of supporting tools to ensure maximum efficiency and, most importantly, the minimum level of system downtime and lost productivity as support issues are being addressed – making it the perfect tool of choice for any IT team.
Key features include:

NetSupport Notify – Desktop alerting and notification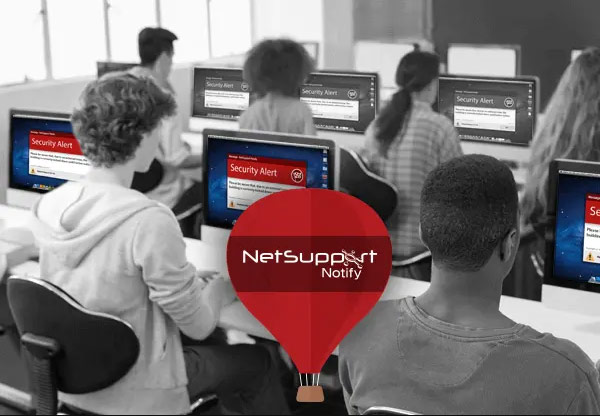 In today's challenging working environments, organisations are fast realising the benefits of mass notification technology.
As a solution specifically designed to deliver one-way alerts and notifications to desktop users that cannot be skipped, ignored or saved for later, NetSupport Notify scales to the largest of organisations with multiple sites and provides real-time status of notifications and acknowledgements − as well as delivering pre-scheduled alerts.
Simple to implement and use, NetSupport Notify is the perfect choice for messaging and alerting across a LAN or WAN network. Its dedicated local notification gateways allow seamless message delivery across multiple network segments or dispersed sites without the need for network modifications or switch configuration. A true mass notification system with fast and reliable alerts, NetSupport Notify's alerts can carry varying priorities, customisations and delivery options.
Key features include:

NetSupport – ReallySchool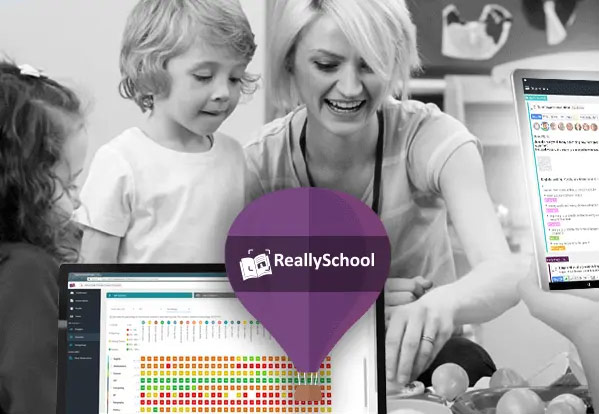 apture and assess primary pupils' learning and development with ReallySchool!
Low-cost, easy to use and super secure, ReallySchool, our award-winning app and online portal, helps teachers and TAs to complete student observations and assessments quickly and effectively.
From creating observations and linking learning to assessment, to monitoring progress, identifying learning gaps – and more! It also helps boost parental engagement and supports the continuation of learning at home.
NetSupport ServiceDesk – Browser-based help desk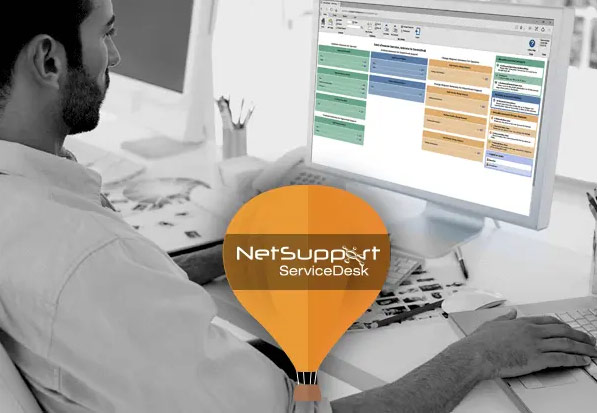 Technology plays a vital part in any organisation's success and at the heart of any reliable and effective IT environment is the help desk. In addition to supporting users' daily IT issues, the helpdesk will also highlight recurring IT problems; enabling organisations to identify and fix the root cause and ensure a productive working environment.
Easily integrated into your existing IT infrastructure, NetSupport ServiceDesk delivers the processes needed to help you effortlessly track, organise, manage and answer the toughest support challenges. Its fully customisable and intuitive browser-based interface supports both desktop and mobile platforms and delivers robust workflow processes. It supplies a wealth of management reports as well as providing a customer-friendly self-service portal – all the tools needed to help technicians deliver support effectively.
Key features include: